Why Curiosities?
While EntangledContinua is the home for my major collaboration projects, Curiosities is the clearinghouse for my other, more personal projects. At left are other places you can find me on the web. Below is my CV and available short stories.
My CV & Short Works:
Skip to short stories:
Various works of flash fiction can also be found at my LiveJournal, at 52|250 and at Fictionaut.
My first #FridayFlash, "Wicked Witch for Hire," was chosen by Emma Newman to help promote her narration service. Emma does a wonderful reading!
Please, give it a listen! Click here for MP3.
These works are licensed under a
Creative Commons Attribution-Noncommercial-Share Alike 3.0 United States License.
NEWS:
Starting January 3rd, I will be participating in A Round of Word in 80 Days. My plan is to add a total of 50K words to my first draft by March 24th. I will continue posting proof-of-concept vignettes and commentary on the process Eric and I engage in at Mr. Luck's very own home on the internet: Luck for Hire.
July 24, 2010 - Sold short story "Breakfast in the Garden" to Bards and Sages Quarterly. The story will appear in the January 2011 issue.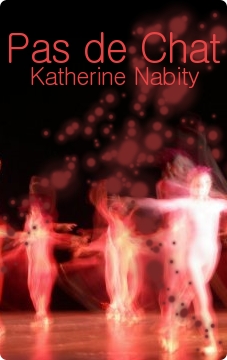 Pas de Chat, a serial novel
Updated FREE every Sunday and occasional Wednesdays.
On April 11, 2010, I began posting the novel as a serial. Posting finished on May 16, 2011.
In a Chicago alley, a man is murdered, viciously shredded. The only clue is the woman's wallet that leads Detective Jason Tobel to Joanne, a former ballet prodigy that has sunk to bartending to make ends meet. He's not the only one investigating Joanne. Nathan Smith, a PI hired by Joanne's mother, has finally caught up with her as well. The only thing that stands in their way is Ian Dien, and what Dien is protecting extends far beyond Joanne and the violence that seems to follow her.
Lucinda at the Window by Katherine Nabity
Awaiting Re-release. Keep an eye out for updates.